Upholstery Cleaning Services with a Smile!
At UCM Carpet Cleaning of DC, we understand that a clean and healthy home or office is important to you. A big part of that is keeping your furniture free from dirt, allergens, and unpleasant odors. We're excited to offer fantastic upholstery cleaning services that cater to the individual needs of our lovely customers in the DC area.
Cleaning your upholstery is essential to maintaining the beauty and function of your furniture. As time goes on, dust, dirt, and allergens can gather in the fabric, making your space less inviting and unhealthy. But don't worry! We are here to help with top-quality upholstery cleaning. We use the latest equipment and eco-friendly cleaning products to ensure your furniture is fresh, clean, and looking fantastic.
Our Friendly Upholstery Cleaning Services
We offer a wide range of upholstery cleaning services, customized to meet your specific needs:
Pre-inspection: Our highly trained technicians meticulously examine your upholstery to determine the fabric type and evaluate the degree of dirt, stains, and potential damage. This crucial step allows us to identify the ideal cleaning method and solution tailored to your furniture's needs.
Pre-treatment: Utilizing a specially designed eco-friendly cleaning solution, we address stubborn stains, spots, and ingrained dirt within the fabric when required. This optional pre-treatment phase enhances the effectiveness of the subsequent cleaning process, ensuring optimal results.
Deep Steam Cleaning: Our skilled technicians use advanced hot water extraction equipment to deep clean the upholstery, effectively removing dirt, allergens, and bacteria. This method is gentle on your furniture and safe for your family and pets.
Deodorizing: We use a professional-grade deodorizer to neutralize any lingering odors, leaving your upholstery smelling fresh and clean.
Protective Treatment: We offer optional protective treatments to shield your upholstery from future spills and stains. This treatment ensures that your furniture stays cleaner for longer.
Post-Cleaning Check: After the cleaning is done, our team carries out a detailed inspection to make sure your upholstery has been cleaned to the best possible standards.
Deep Cleaning For Your Furniture
Deep cleaning is a specialized field. In order to deep clean your carpet or upholstery, you need a team of cleaning experts rendering deep cleaning services. UCM Carpet Cleaning of DC should be a household name when it comes to sofa, upholstery, and furniture cleaning because from the time we receive a client until we complete our job, we strive to deliver the best and won't settle for less.
Furniture Cleaning
Most services succeed in cleaning simple furniture, but tend to shy away from challenging and complex designs. We actually pride ourselves on what others fear and will not ever turn you down. We deal with cleaning a whole range of furniture, from sofas, leather furniture, to recliners and arm chairs, and everything in between, like ottomans, sleeping bags, etc.
UCM Carpet Cleaning of DC also specializes in mold testing, mold removal and mattress cleaning, a service that is closely related to upholstery cleaning with the same great results. We offer deep cleaning, stain removal and sanitizing for mattresses of all sizes. Check our mattress cleaning prices now!
Upholstery and More
When it comes to upholstery cleaning, UCM Carpet Cleaning of DC utilizes the process of steam cleaning, which is known to sanitize and produces excellent results. The steam is effective for isolating and removing dirt in the form of minute particles or scales from hair and skin. Following this, we do a through the enzyme cleaning, which encourages color and texture rejuvenation and reaches the furthest nooks and crannies of your sofa, chair or any other furniture piece. The last stage is the drying state, which varies for each piece of furniture.
Resources in Place
When it comes to resources, we of course start off with our human resources, who are very well trained, not only in their expertise, but also in customer care. Our equipment is state-of-the art material, but our staff is what ensures that we leave a positive and lasting impact with our clients.
The bottom line is we are among the most affordable cleaning services in your area. We are faithful to our clients and we survive in the market because of you. Without your satisfaction, we are simply another service provider.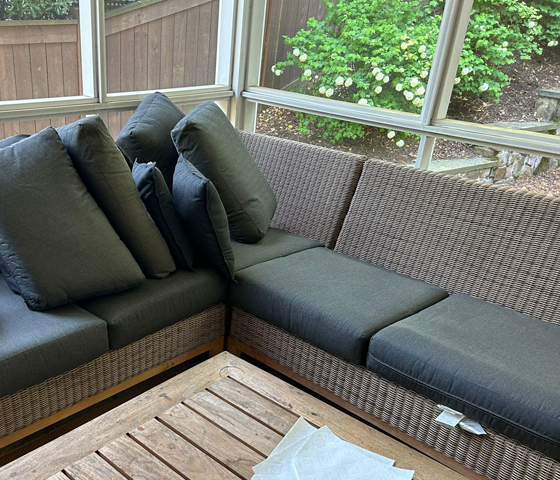 More Reasons to Choose Us
Expertise: Our team of certified technicians has extensive experience in upholstery cleaning, ensuring that your furniture is in the best hands possible.
Cutting-Edge Technology: We utilize top-of-the-line cleaning equipment and eco-friendly solutions to achieve the best results, all while being kind to the environment.
Personalized Approach: We customize our services to match the specific needs of your upholstery, considering the fabric type, condition, and degree of dirtiness.
100% Satisfaction Guarantee: We take pride in our top-notch upholstery cleaning services and offer a 100% satisfaction guarantee. If you're not fully satisfied with the results, we'll happily re-clean the areas at no extra cost.
Budget-Conscious Pricing: We deliver our high-quality upholstery cleaning services at wallet-friendly prices, making it easy for everyone to enjoy a clean and healthy living space.
Exceptional Customer Service: Our friendly and professional team is committed to offering amazing customer service, promptly and effectively addressing any concerns you may have.
UCM Carpet Cleaning of DC: Your Upholstery Cleaning Experts
Keeping your living space tidy and well-maintained is essential for your family's health and happiness. UCM Carpet Cleaning of DC is committed to offering outstanding upholstery cleaning services, ensuring your furniture stays in immaculate condition for years to come. Rely on our team of experts for all your upholstery cleaning needs and discover the difference our dedication to quality and customer satisfaction can make. Contact us today at 202-683-4270 to schedule an appointment, and let us help you keep your home or office looking its best.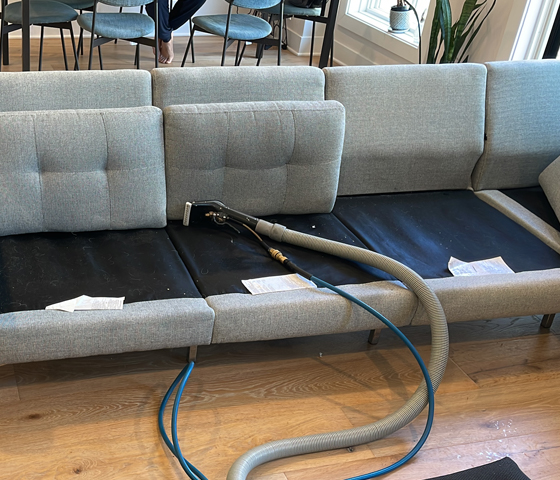 FAQ
How often should I get my upholstery cleaned?
We recommend having your upholstery professionally cleaned every 12 to 18 months, depending on the usage and environmental factors. Regular cleaning helps to maintain the appearance and extend the life of your upholstered furniture. However, if you have young children, pets, or allergy sufferers at home, you may want to consider more frequent cleaning to ensure a healthy and comfortable living environment.
What's the best way to get rid of stains on my couch?
The most effective way to remove stains from your couch is to use a professional upholstery cleaning service like ours. We employ advanced cleaning techniques and industry-approved solutions to target and eliminate various types of stains, including those from food, drinks, ink, and more. We assess the type of stain, and the fabric of your upholstery, and select the most suitable method to ensure the best results without causing damage to your furniture.
Can I just clean my upholstery with DIY stuff?
While there are DIY upholstery cleaning methods available, we strongly advise against relying solely on these approaches. Using improper cleaning solutions or techniques may lead to damage, discoloration, or even irreversible harm to your upholstery. Our professional technicians are trained to identify the appropriate cleaning methods and solutions for your specific upholstery type, ensuring both effective and safe cleaning results.
How long does it take for my upholstery to dry after cleaning?
The drying time for your upholstery can vary depending on factors such as the type of fabric, the cleaning method used, and the room's temperature and humidity levels. Generally, at UCM Carpet Cleaning of DC, we find that most types of upholstery fibers dry within 4 to 6 hours after cleaning. However, some fabrics or cleaning methods may require longer drying times. Our technicians will provide you with an estimated drying time and any necessary aftercare instructions to ensure your upholstery remains in excellent condition.
How much does it cost to steam clean a couch or a sofa?
The overall price will vary based on a few factors. The number of items you need to be cleaned, the size of the objects, and the cleaning method will be the main aspects to consider. Get in touch with us so that we can organize a time to visit your place and provide a free estimate. Just give us a call or fill in the online form.
How do we deep clean upholstery?
There are a variety of methods used to do a deep cleaning of your upholstery. Some of them include dry cleaning, steam cleaning, chemical cleaning, foam cleaning, etc. Our technician will see what the best method for your fabric is before recommending it for your cleaning.
Professional upholstered furniture cleaning. Is it worth it?
Professional upholstery cleaning is pretty worth it, and it costs pennies compared to the cost of replacing your whole worn furniture. Having your upholstered furniture professionally cleaned eliminates smells, eliminates tough stains, and extends the lifetime of your furniture.
Is there a difference in cleaning fabric and leather sofa?
We value our customers and provide them with the best cleaning methods to clean an upholstered couch. So most of the time, we use high quality leather cleaning supplies for leather because it is the safest as well as the most efficient way. And for the fabric sofa, every method works great, but the best method is to steam clean the sofa!
Call us now or use our free estimate form, enjoy cleaner furniture with UCM Carpet Cleaning of DC 202-683-4270.